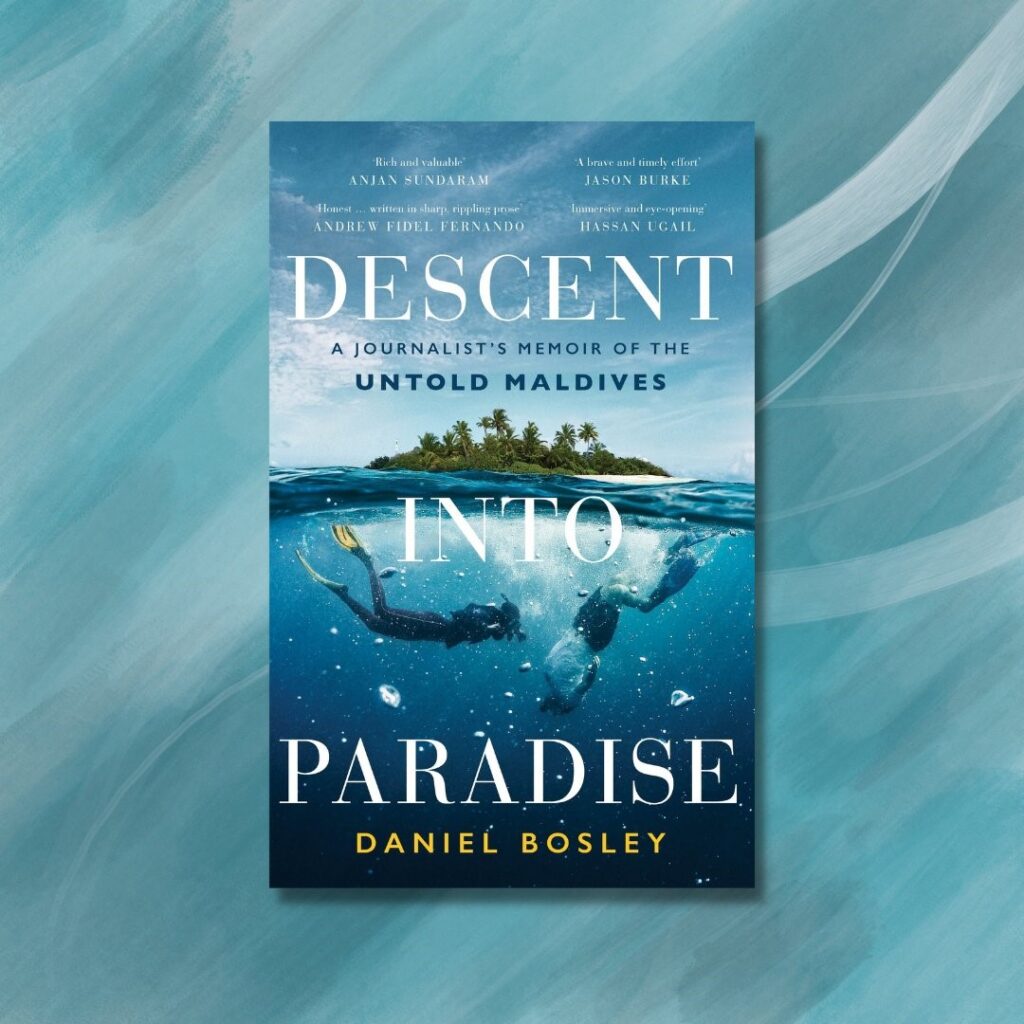 2k Journal:

Dan's book cometh- 'Descent Into Paradise'
---
Daniel Bosley
Descent Into Paradise is available for pre-order now via Amazon, Google Books and Apple Books.
It's been five and a half years since I received an email about writing a book on my time in the Maldives, and about five years since I thought it was some kind of hoax; too good to be true.
Naj and I felt we'd hit upon something amazing in the atolls, but the idea of turning it into a book was a distant daydream, and not something I'd given serious thought. It turned out an eagle-eyed publisher in Delhi had.
Two Thousand Isles had given me the platform to write about the Maldives' hidden gems – its culture and history. But it was reporting on what had gone before – the dirty secrets – that had left me so determined to seek out these hidden treasures. 'Descent Into Paradise' tells the story of Two Thousand Isles, but also what led to it.
The book was drafted in 2019, in Addu, and I excitedly sent the manuscript to the publisher in early January 2020, with a mid-year release in mind. We all remember what happened next.
During Covid, almost everyone lost something, missed out on a major event or a life-changing experience, and I had to console myself with the fact that I hadn't lost anything more (as so many had).
With the book joining the whole world in an open-ended pandemic purgatory, I travelled home to a UK in recession to find work. Soon, eating fresh coconuts during beautiful sunsets had been replaced with fitting kitchens on building sites, and penning blogposts about Seenu's wonders with packing boxes in a Stockport warehouse. It was the ultimate reality check.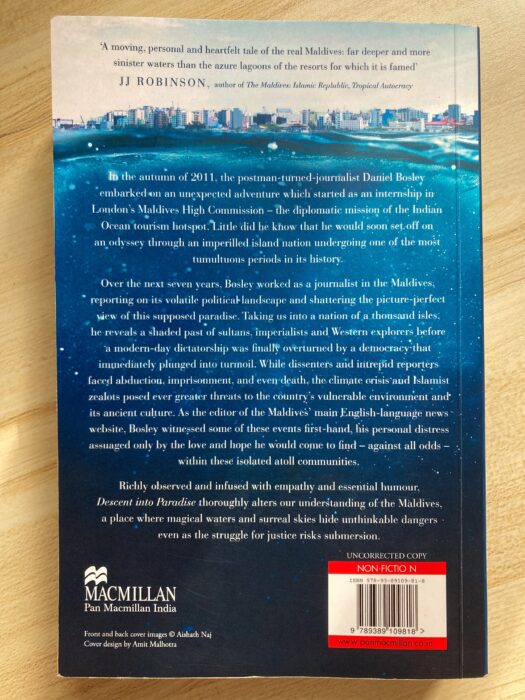 In those murky years, I'd wondered if the book would ever see the light of day, and talking about it started to make me feel like the young boy with a made-up girlfriend (Oh, you don't know her…she goes to a different school). But, with publication finally here, I can now proudly introduce you…
Descent Into Paradise is a story that begins with an internship in London before quickly snowballing into a coup, corrupt elections and a career in journalism that had never crossed my mind, until it crossed my path.
It also incorporates the best of the blog, sharing the journey Naj and I started together with as many people as possible. Her remarkable talent has been inspiring my writing since Two Thousand Isles started, so it seemed crucial that her work appear on the cover (please, judge away). 
Most importantly, Descent Into Paradise gave me the chance to write at length about two incredible men I was fortunate enough to know: Ahmed Rilwan and Yameen Rasheed – to whom the book is dedicated.
After Riz and Yameen were taken from us, in 2014 and 2017, respectively, their friends and families have worked tirelessly to bring them justice. For two disobedient writers, justice includes sharing their story with as many people as possible. When someone has to die for their words, those words should be taken seriously, and shared widely.
The two solid weeks spent reading every tweet or blog post the guys ever wrote were emotional, leaving me feeling like we'd just been hanging out, drinking coffee and making jokes. After countless hours poring over old books about the islands, my hope is that another clueless outsider, or (even better) young Maldivian, will find a dog-eared copy of Descent Into Paradise years from now and get to meet Yameen and Riz too. If we continue to share their words, they'll outlive us all.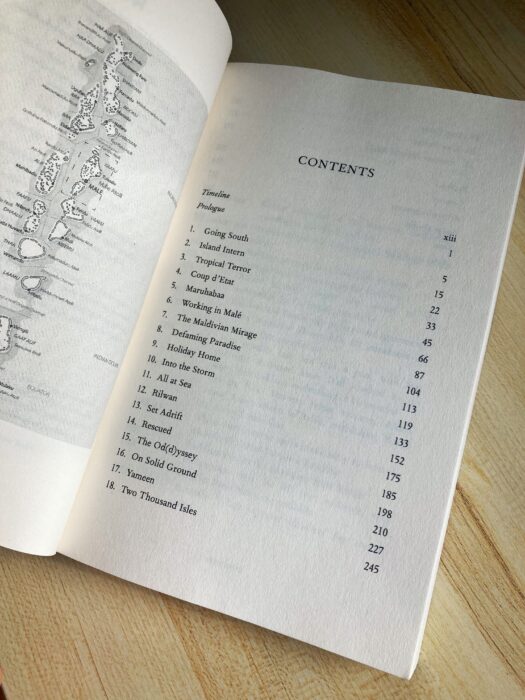 Indeed, my main hope is that Maldivians themselves get to read the book, and that, at least some of them, like it. A country that relies on an idyllic image for its livelihood is understandably protective of it, but a democracy needs free expression and honesty, no matter who it comes from.
Drafting took place during the local controversy over Francesca Borri's Maldives book and at the height of the global 'Black Lives Matter' protests, leading me to re-examine what it means to be a Brit writing about a former part of the Empire. The difficulties of writing openly from within a small island community were demonstrated devastatingly in Riz and Yameen's cases, but centuries of objectification by explorers, colonialists and journalists comes with its own problems.
While I can't promise Descent Into Paradise avoids those 'Trouble in Paradise' clichés altogether (I had to fill a whole book!), it does try to explore them. I can only hope I've been able to approach the subject, and to recount my experiences, with fairness, humility and openness.
For those who feel otherwise, don't worry, it's just a book; and the tourists will keep coming…until they can't.
No book about the Maldives would be complete without considering how the climate crisis is affecting it, and what it will mean for the future of Dhivehi civilisation. Contemplating the ominous horizon is something nobody seems to want to do; I certainly didn't. But without major changes, it will wipe the archipelago clean – of politicians, tourists, resort owners, jihadis and all – leaving nothing left to write about.
All eyes will be on the country this week as people head to the polls for the country's presidential election. Perhaps if the world gets to know a little more about the Maldives – good, bad, and in-between – it might do a little more to help save it.
---