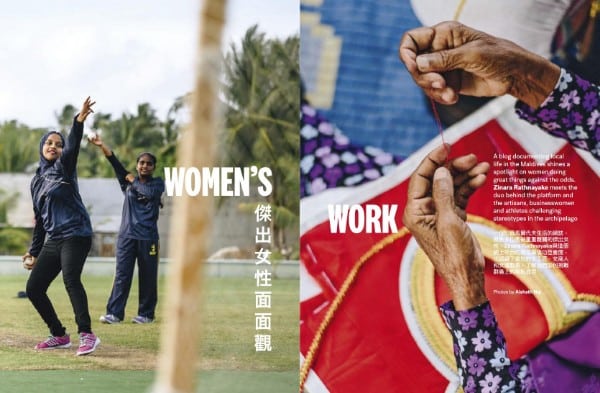 2k Journal:

Maldivian Women on Hong Kong Flights
---
Forget the beaches, the marine life or the hard-working coconut palm, it's the ladies of the atolls who are perhaps the key element to island life.
Some of the most interesting stories we've come across on our travels have involved Dhivehi Raajje dhatha, as anyone travelling on Hong Kong airlines this month will find out, thanks to Zinara Rathnayake's article in the '+852' in-flight magazine.
Highlighting the women "challenging stereotypes in the archipelago", Zinara chats with Suvadive Spinners of Fuvahmulah, the Ladies of Libaas on G.Dh. Madaveli, Aishath Zulfishan – spa manager at Huvafen Fushi resort, as well as our own Aishath Naj.

"Dhivehi culture is just waiting to be discovered by visitors, and these talented women are keeping the candle burning,"

Naj
Hop on a Hong Kong airlines flight to read more…or maybe just click here.
---
---