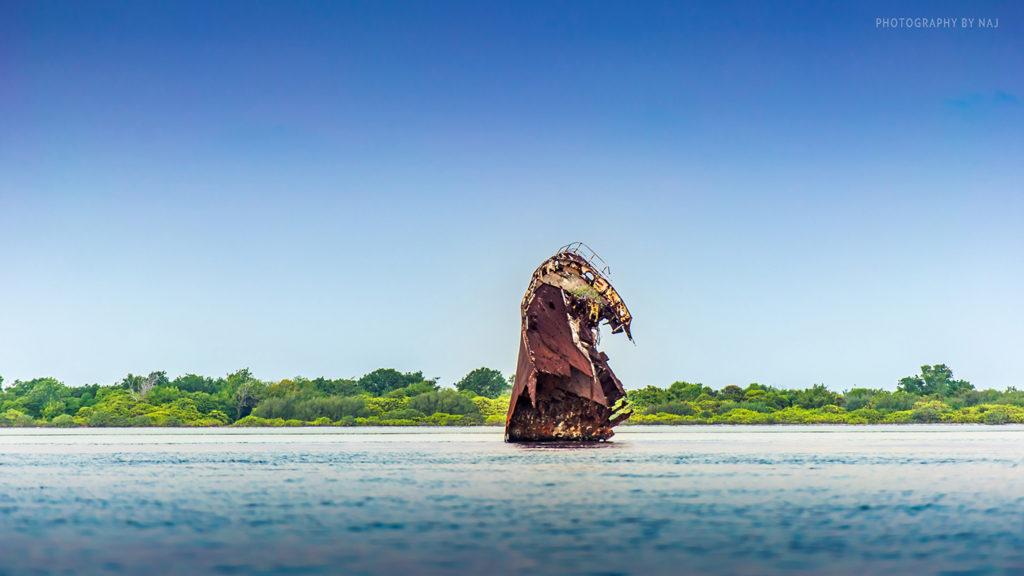 Off the coast of Felivaru in Lhaviyani Atoll, just minutes away from the atoll capital Naifaru, the bow of a mystery vessel juts awkwardly from the reef. Standing taller than any other natural feature in the country (not counting trees), the hulk has been a part of the local landscape for as long as most residents can recall.
What's more, 30 metres below lies a second wreck, thus earning this area the name 'The Shipyard' amongst divers. But, with any identifying features long since consigned to rust, the history of the vessels has also begun to fade. Despite this decay, the proximity of the country's first tuna cannery on Felivaru gives clues to the pair's fate.
The ship lying below the waves is said to be one of the first refrigerated boats introduced to the Maldives by Japan in the 1970s – as suggested by its name, Skipjack 1 (formerly known as Hokomaro).
After introducing outboard motors to the archipelago for the first time in the 1970s, a booming Japanese economy revolutionised the Maldives' traditional fishing industry by bringing cold storage ships to the atolls, thus enabling Maldivian fishermen to sell fresh catch (though the government took a large percentage) rather than drying and curing their fish for export.
Due to be scuttled in deeper waters – perhaps soon after the Maldivian and Japanese government established the cannery on Felivaru in 1978 – Skipjack 1 caught fire and sank in shallow waters. The pioneering vessel is now a minor cast member in the tourism industry, after having played a leading role in the development of the fisheries sector.
It was to the cannery to which the second vessel was heading in 1984, seeking emergency repairs on its regular trip from Colombo to Male. The ship – said to have been pressed into local service after having illegally entered Maldivian waters – failed to make it to Felivaru; it's crew having to swim the final few feet.
Unlike it's prominent fate, however, the origins of this vessel and its journey to the Maldives are less clear. Perhaps there is an elderly fisherman somewhere in Lhaviyani who can add more to the tale, salvaging a little more local history from the corrosive effects of time.
---
---
---