Gems, Fish, and Gemanafushi
---
This post should have been written before yesterday's Kondey update. But there was really a lot to digest in Gemanafushi, and typing it up quickly on a guitar-shaped table in Kondey's only coffee shop (yeah, we forgot to mention that) didn't seem right.
A kitchen table in Kanduhuludhoo seems far more appropriate (and there's still coffee); even more so as the rain seems now to have set in for this particular nakaiy.
But, back to Gemanafushi. Despite the illusion of being far from Addu, we have not yet left the sovereign territory of Naj's family, and so, once again, needed no letters of introduction to the community ('it's fine, they're with us'); and what a community it is!
Around twice the size of Nilandhoo, so officially just over 1,200 – minus the obligatory one third in Male' – Gemanafushi really has its fish together. This sparkling unity of spirit is evident as soon as you enter the recently-completed harbour.
'Welcome to Gemanafushi' reads the arch leading down the main magu, sculpted by a local craftsman and decorated with a small dhoni. 'Bon voyage' reads the reverse side, compensating gallically for the lack of a word for 'goodbye' in Dhivehi, ("hey, can you take this hikimas to my aunt in Male" wouldn't fit).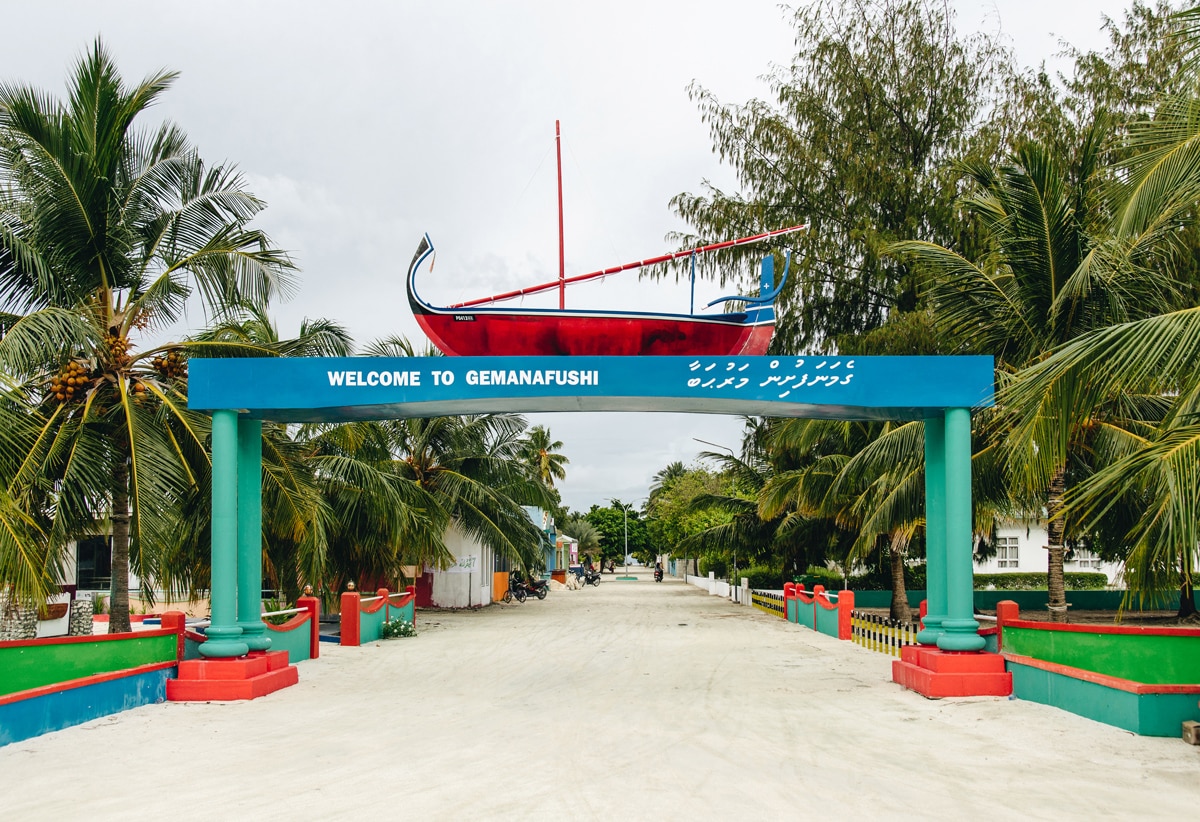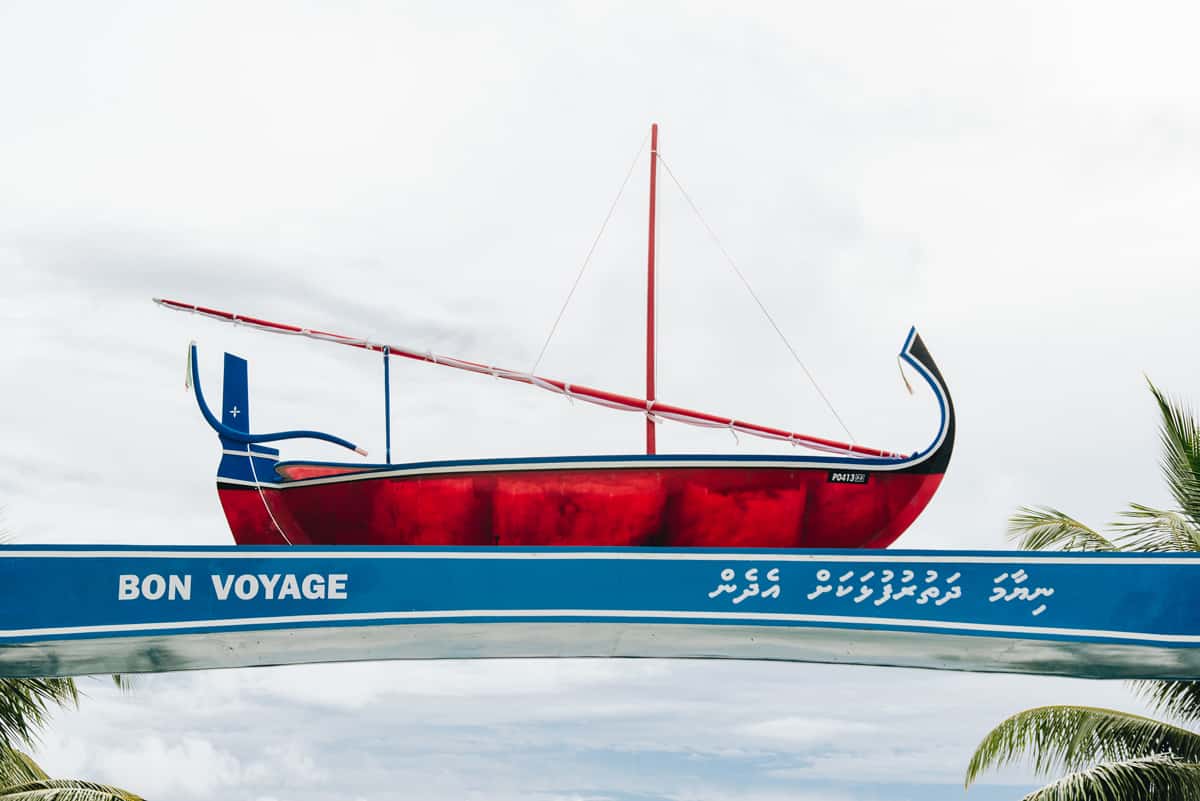 Before the main magu is reached, a plaque commemorates the harbour's inauguration by the president twelve months ago, as does a model diagram of questionable accuracy – those two cars on there must have gone fishing during our stay.
For fishing is what unites the community, with the majority of people involved in the catching, drying, smoking, cooking, packaging, and rihaakaru-ing of 'Gemaland' products. An investigative stroll around the island reveals racks of sunbathing fish, boiling cauldrons of thick fish paste and vaccum-packing valomas, while bait-filled dhonis queue up on the harbour to shovel snow.
It's perhaps this island factory of cottage businesses that led Gemanafushi to be selected by the IFAD for its only fisheries co-operative project in the Maldives, under which local products are branded 'Ratu Raha' and sold to other islands, both near and far.
As we observed in Nilandhoo, those who still brave the elements to farm the oceans can expect considerable reward for their risk. For masveriya, a good day (or three) in the office can yield double what the average civil servant takes home in a month. But instead of going into the pockets of the capital's landlords, Gemanafushi's profits are being reinvested in the community…which brings us to the jewels in the island's crown.
Relaxing on the north and south of the island, past the fringing fields of watermelon, capsicum and chilli, are the community beach areas – 'Zero Beach' and 'Marehaa View'. Both recently completed and privately financed, neither would seem out of place on a resort island. Countless joali, undhoalhi, kitchen facilities and even a television (on which Liverpool FC always win by four goals) are kept in pristine condition – reflecting, it seems, the community itself.
So, that's our thoroughly enjoyable tour of the gems and fish of Gemanafushi (good job the trip was easier than that pun). We'll prepare some of the more specific stories and videos in the coming days, including one in which Dan is serenaded by an unexpected admirer.
(And if anyone could make it stop raining, that would be great. Thanks!!)
---
---