The last couple of days have been exciting day for us, as we were finally able to launch our first video as well as the first of our exclusive articles on Mihaaru.com. Both of which will hopefully demonstrate for a new audience the main idea of the project.
For those who've already seen some of our stuff, this means we'll be getting back to more of the same with the addition of video content and regular travel blogs. Additionally, it means that people will be able to see more of Two Thousand Isles on Mihaaru's pages, which will also feature weekly travelogues from Dan about the experience of living, working, and now travelling in the islands.
A quick word on the Mihaaru partnership. When we thought about expanding our audience and making moves to sustain the work we're attempting, they were the first people we thought of, and we're very proud to be able to share a platform with such a hard-working and determined team of journalists.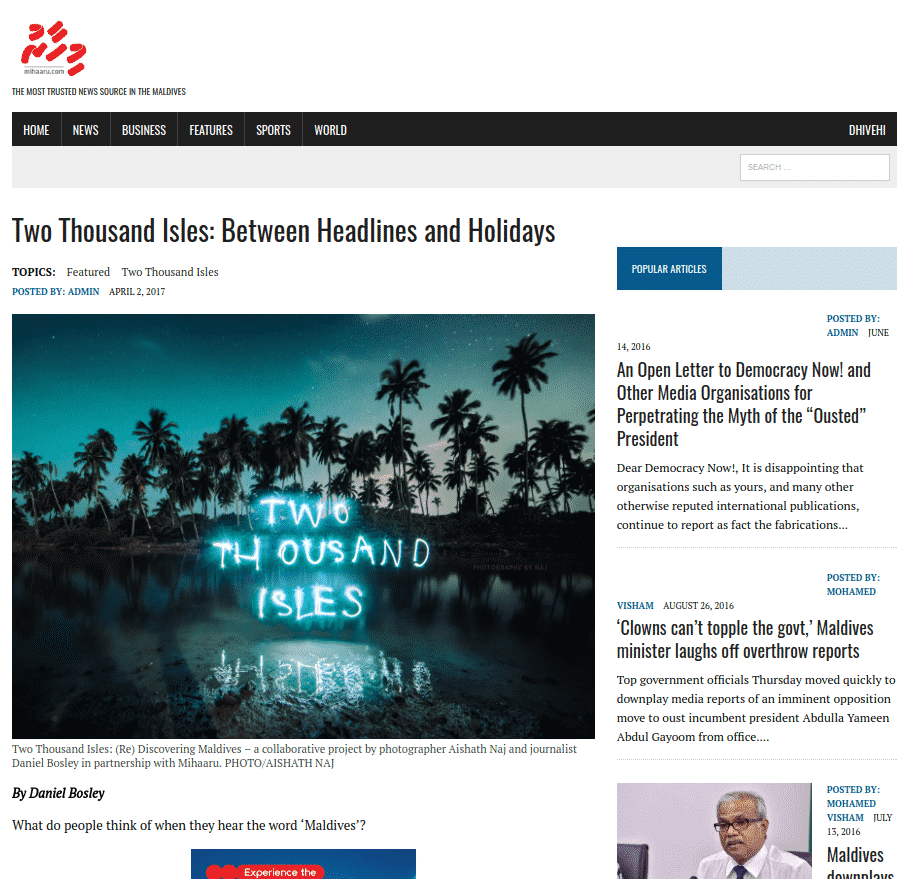 Apologies in advance for the sound quality on our first video. The sound engineering is something we are learning as we go and we promise better quality is just around the corner (as for Dan's speaking voice, there's not so much we can do about…but, hey, we added subtitles!!).
We'll be summarising our content each week through our email subscription (check on the home page) and we're always looking for feedback. One of the reasons we are hoping to reach a wider audience is because we're sure to need help as we go – with travel, with accommodation, with information and with corrections. We're bound to make mistakes as we produce regular content on the road (or the ocean) but we want to correct them in order than the site can become a reliable resource for people to learn more about this incredible country and its people.
That's about it…but please get in touch if you have questions at all about the work. Thanks for reading.
---