Maldives: A Star Wars Story
'Rogue One: A Star Wars Story' was the first major international film to be shot in the Maldives – an opportunity to show that the Indian Ocean nation is about far more than luxury resorts and perfect beaches. The real story of the filming certainly does that – revealing the details, the destinations, and the drama beyond planet Scarif.
A long time ago in an atoll far far away…the tiny island nation of Maldives became part of the Star Wars universe. Come on, how else could we start this story? (Apologies to all the eye-rolling Star Wars diehards out there.) For just under two weeks in late 2015, the coral atoll of
Laamu
in the Indian Ocean was transformed into the Outer Rim tropical planet of Scarif for the filming of 'Rogue One: A Star Wars Story'. This was the first spin-off for the world's favourite film franchise, and the Maldives' first major departure from its standard role of pristine island paradise and occasional political basket case – both of which would be reprised during production. By mid 2014, the world had learned that the long-awaited Star Wars anthology series would be happening, and that the director of the first film would be Gareth Edwards, but almost everything else about the project remained shrouded in mystery. Screen-wipe to an isolated island metropolis, somewhere out in the Indian Ocean. In the Maldives' congested capital island of Male', 'Kudu' Ibrahim Mohamed – founder of the
'Blue n White'
company – was approached by a group calling itself 'Lunark Heavy Industries' about an unspecified project. Blue N White is the largest production company in the Maldives…in fact, they're pretty much the only production company in the Maldives. For around a decade, they have handled just under 200 projects – finding locations among the 1,192 islands, navigating the perilous bureaucracy of paradise, and organising tough logistics in the Kamino-like nation which consists of less than one percent land.
ROGUE FACTS: Home From Home
While the real location of planet Scarif is Laamu atoll, the fictional home planet of the  film's hero Jyn Erso is, coincidentally(?), called Lah'mu – and was depicted in the film by the iconic black sandy beaches of Iceland.
Most of Blue N White's projects before Rogue One had involved lavish wedding events, TV commercials, nature documentaries, or television series. But this job was different. Whereas other clients might request 'something like this', or 'an island that looks a bit like that', Kudu's mysterious new employers were far more demanding. Blue N White received concept drawings from 'Lunark' and were then asked to go and find the exact islands to match. The idea, Edwards later revealed, was to deliver a landscape unseen elsewhere in the Star Wars anthology. After the snowy white of Hoth (Norway), the lush green of Endor (California), or the desert browns of Tatooine (Turkey), Scarif would provide a new look to an old galaxy. The name, well, that was said to have come from a misspelling of the director's first name on a coffee cup. So, the search began…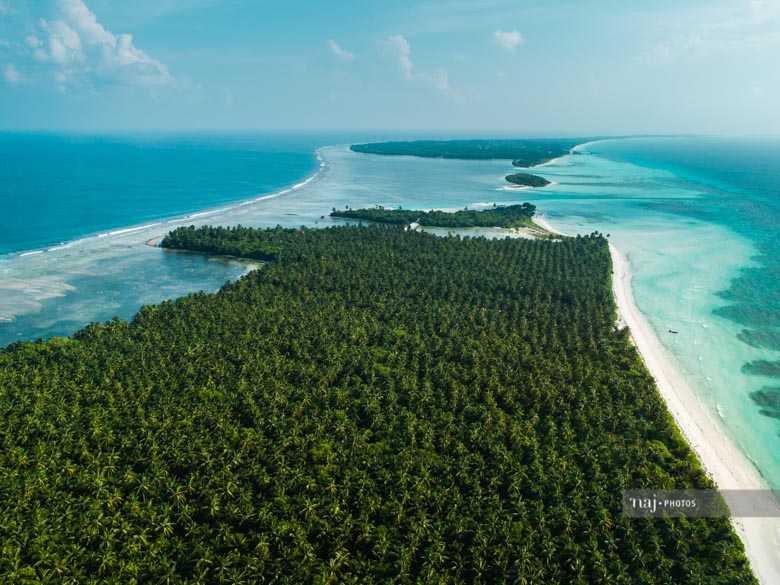 Planet Laamu
Laamu atoll consists of 11 administrative 'islands' (i.e. populated ones) spread among up to 88 uninhabited islands, islets, sand banks and patches of exposed coral reef. These varying degrees of island make the Maldives a mysterious place, statistically (hence the name of our blog), but the task of the team at Reveries Diving Village on the island of Gan remained the same: help Blue N White's new clients find what they were looking for. After searching the length and breadth of Laamu in January 2015, the team eventually found their islands, while Reveries would itself became centre of operations during filming 11 months later, housing both cast and crew. All were required to sign confidentiality agreements to keep Scarif a secret, though even today – more than two years after the film was released – the exact identity of the islands remains relatively obscure. Most articles and blog posts about Rogue One's production mention only the islands of Gan and Baresdhoo. Gan is the largest natural island in the Maldives, has a population of 3,500 (a fair size by Maldivian standards), fascinating Buddhist ruins, beautiful beaches, and the longest road in the country – linking places like Reveries with the airport two islands over. In short, it's a great spot for setting up camp, but no filming took place on Gan itself.
ROGUE FACTS: Searching for Scarif
The Imperial military base was shot on the following uninhabited islands in Laamu atoll: – Baresdhoo (1.967678, 73.540059)  Seen when rebels pass through thick jungle (approx. 1:30:00 into film). – Kudafushi/Maafushi (1.790491, 73.332292)  Main battle scenes. – Kudarah (2.064961, 73.536568)  Iconic shots of wading storm troopers shot here.
Baresdhoo is relatively close to Gan – about 20 minutes by boat – and appears in the film very briefly, when the rebels are seen stalking between large palm trees as they attempt to infiltrate the imperial base (blink and you'll miss it). The reasons this island was chosen seem fairly obvious when you visit. Having operated for many decades as a coconut plantation, for both government and private businesses, Baresdhoo is covered in row after neat row of palm trees, first imported from Malaysia for faster growth. This gives a very different look to the normally chaotic arrangement of smaller, curved, trees found on most other Maldivian islands. What's more, Baresdhoo has huge lanes running across it – perfect for launching a rebel assault…or operating large camera equipment. More recently, Baresdhoo has been selected as the location for the Maldives' flagship guest house island project, originally scheduled to open to guests this year – but unlikely to do so based on current progress. Rather than rebel fighters (or the Empire's independent contractors) the only people we found during our visit were Bangladeshi labourers laying pipes…oh, and incredible amounts of mosquitoes, so bring your lightsaber.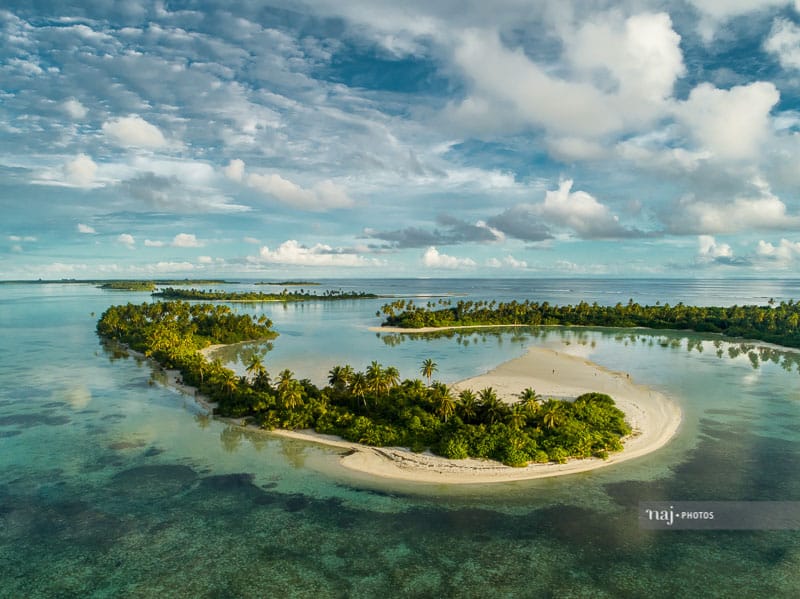 As for the other islands involved in filming, named Maafushi and Kudafushi, it's hardly a surprise that their identity has remained largely unknown. For starters, they are far smaller than Baresdhoo, more isolated, and have fairly mundane names. The tiny Maafushi translates into English as 'the big island', and shares its name with no fewer than four others in the Maldives, while the slightly bigger Kudafushi next door translates as 'the small island', and shares its name with three others. Confused? Good! Kudafushi and Maafushi featured far more prominently in the final film, particularly on the main promotional posters and the final battle scenes, and though their names may be generic, their appearance is not; with the two crescent-shaped islands forming an unusual enclosed area in the middle, just a couple of feet at its deepest. Just as at the time of filming, the islands are leased locally for farming and for rearing chickens, which had to be relocated during filming. The exact spot on the promotional poster where the explosion can be seen is, in reality, the living quarters of the farmers who mainly grow papaya, cucumbers, and melons. We were treated to some of the latter, and coffee, when we went over to see them during our visit (turned out they were all fine). The closest inhabited island is called Kunahandhoo, though there are no hotels or guest houses there. As for the final scene on Scarif, when Jyn and Cassian await the Death Star's apocalyptic blast, this could easily have been filmed from Maafushi's large finolhu (sandbank) – though we couldn't find out for sure. Finally, although the surrounding reef area on the south-east of the atoll offers miles of opportunity to take the iconic images of Storm Troopers wading through the aquamarine shallows – a shot which never appeared in the final movie – we were told that this was actually filmed by the uninhabited island of Kudarah, on the opposite side of the atoll.
The Force Awakens
For anyone who's ever seen any of the main Star Wars films (must be a handful of people out there somewhere), there could be no spoilers for the spin-off prequel Rogue One. Similarly, anyone who knows the Maldives (maybe half a handful) knows that politics is the driving force behind almost everything, and is capable of spoiling almost anything. It was no surprise, therefore, that there was as almost as much drama behind the scenes of the shoot as there was on screen. Filming in Laamu itself went relatively smoothly, although the timing of the shoot – with the wetter hulhangu monsoon transitioning to the drier iruvai – meant many grey days, and no special effects were needed for the wind whipping around our heroes as they attempt to swipe the plans to the Death Star. A stunt helicopter was able to use the facilities of Kadhdhoo airport  from which to get footage, while some of the soldiers from the Maldives National Defence Force's adjoining military base were suited up to appear as Storm Troopers. The only mild note of on-set drama related to these extras, as (joking) remarks from Gareth Edwards' led to numerous media reports that Maldivians wholly were unaware of the Star Wars franchise. The President's Office spokesman at the time – himself a mega-fan of the genre – promptly tweeted to correct this misunderstanding. Blue N White's Kudu did, however, tell us that  he himself knew nothing of the films beforehand, recalling his young daughter calling him excitedly during filming ('Daddy, daddy, is Darth Vader there?'…'I have no idea who that is sweetheart, let me ask someone').
ROGUE FACTS: Donnie Spotting
Rogue One's low-key cast meant the actors were able to infiltrate planet Laamu undetected…all except Donnie Yen that is (AKA Chirrut Îmwe), who was immediately recognised by Chinese workers constructing the Laamu link road.
In the crowded capital of Male', however, the dark side of the force is a lot stronger, and a classic Maldivian melodrama was playing out that would rival the plot of any intergalactic soap opera. Now, Maldivian politics has a tendency to be hopelessly complicated (if not slightly repetitive), so those familiar with the Star Wars saga might be able to follow things a little more easily than most. When scouting began for Rogue One's Maldives locations in early 2015, the President of the Maldives was Abdulla Yameen. He had a vice-president – whose name is/was unimportant – but his real padawan was the young tourism minister Ahmed Adeeb. By the time the Rogue One pre-production team arrived in July that year, a gloomy authoritarianism had seen Adeeb installed as the new vice president. It is unlikely the Rogue One team were even aware of such domestic details at this time, but after an explosion on President Yameen's yacht on September 28, and further alleged bomb threats in the capital, the context was provided for the invocation of emergency powers (bells ringing, anyone?). The young apprentice was accused of conspiring to usurp the master – as young apprentice's usually do – and Adeeb was thrown into jail. Okay, there's no exact analogy here for the wannabe-emperor's protege also being accused of defrauding his government of 80 million Galactic Credits (though we've not read the whole Star Wars canon), but Disney were now feeling like they'd scouted in the Galactic Republic of Maldives, only to be arriving to film in something closer to a Galactic Empire. In reality, as resorts are frequently at pains to point out to distressed tour operators, mad Male' is far-removed from the rest of the country, and political infighting in the capital is normally imperceptible out in the atolls. Would you stress about another political feud in Coruscant if you were way out in Naboo? Exactly! A further state of emergency two years later certainly didn't bother the Bachelorette. The SoE was lifted once the rebels had been rounded up, though Black N White's Kudu had to ask the President personally for assistance getting smoke grenades and weapon props through customs during this theatrical period.
| | Laamu | Scarif |
| --- | --- | --- |
| Population | 12,500 | 475,000** |
| Location | Maldives, Indian Ocean | Abrion Sector, Outer Rim Territories |
| Description | Coral atoll consisting of around 88 islands*; 1 of 26 in the archipelago | Tropical Planet of volcanic island chains; 1 of 2 worlds in the sector |
| Economy | Fishing, Farming, Tourism | Starship Construction, Military R&D |
| Languages | Dhivehi, English | Evil English |
| Main Export | Fish, Coconuts, Palm Thatch | Dense metals, Death Stars |
| Climate | Sunny with occasional tropical showers | Sunny with occasional single-reactor blasts |
| Government | Laamu Atoll Council, Government of Maldives | Imperial Security Bureau, Galactic Empire |
| Points of Interest | Buddhist ruins, longest beach in Maldives (Gan), Isdhoo Asaaree Miskiiy (mosque), longest road in the country (17km) | Death trooper training camp, Aurek-14 excavation site, orbital shipyard, Imperial Security Complex |
| How to Get There | Fly south from the capital's Velana International Airport direct to Kadhdhoo Airport | Fly galactic south-east on the Corellian run from Coruscant, before taking the Triellus Trade run NE, then the Manda Merchant run north. |
* figures are contested…it's complicated; **Most info here is courtesy of Wookiepedia
Revenge of the Stiffs
So, that was a wrap: filming concluded, islands cleared of any imperial trace, Death Star plans nicked. A new hope for the rebel alliance, but also for those plucky pioneering guest houses like Reveries, which have been working to spread the economic benefits of tourism throughout the Maldives' coral galaxy. The Scarif that appeared in the final film drew as much from a CGI fantasy of the Maldives as from Laamu itself, with unnatural island formations and plunging lagoon waterfalls on a planet terraformed to fit the empire's military-industrial requirements. More scenes were shot at Bovingdon Airfield and inside Canary Wharf tube station in the UK and rumours of significant changes to the final edit might also explain why certain images from the trailers did not appear in the film. When Blue N White's production team were invited to the Male' premier – by another local mega-fan, who had bought out the entire theatre – they barely recognised the locations they'd scouted. Only Baresdhoo, Kudafushi and Maafushi are discernible, and from ground shots only, but the overall atmosphere is unmistakably Maldivian (though X-Wings do tend to vary with the seasons, like dragonflies). The final cut featured planet Scarif only for the final half hour of the film, but the colourful climax, with AT-ACT walkers shuffling past palm trees and tropical imperial troops wading along the reef, became the film's own USP during the worldwide promotion. Rogue One went onto do predictably well, making over a billion dollars, and becoming the 27th highest grossing film of all time.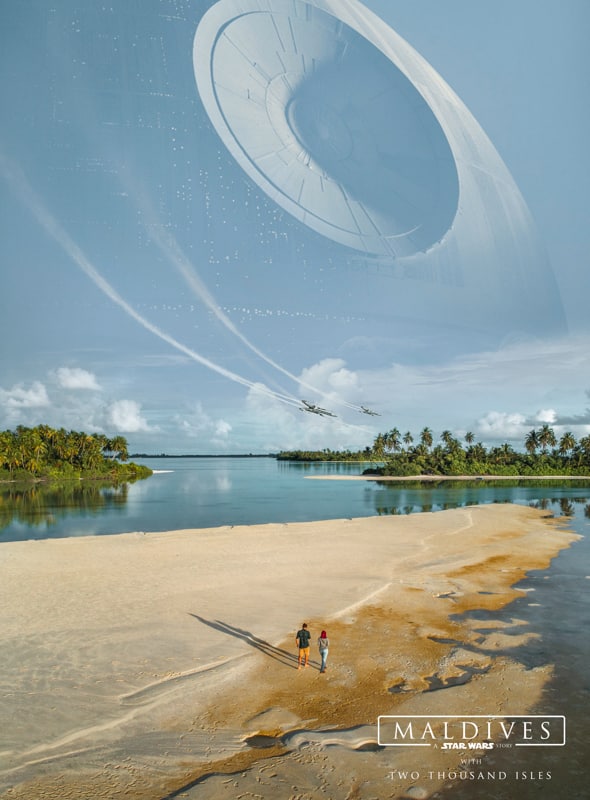 But, back on planet Maldives, it barely made a turquoise splash. Ask around the surrounding islands of Laamu and very few people are even aware that they are now galactic citizens of the Star Wars universe. Here's why… While the Maldives has been transformed from an isolated Indian Ocean backwater to a globally renowned luxury destination over the past 47 years, this has been on the back of a limited and non-invasive single-island resort model. This method has allowed a billion dollar industry, and some billion dollar oligarchs, to develop almost completely separated from the rest of the country. So, in 2016, as a tidal wave of Star Wars publicity headed towards Laamu, those in charge of tourism had to ask themselves: 'Where do laser gun battles and spaceships fit in among water villas and infinity pools?'. The answer they came up with: they don't. I mean, have you seen what a blaster will do to an underwater restaurant? ('Excuse me, waiter, there's a Wookie in my soup', etc). In the stuffy offices of government, there was next to no interest in promoting the film. Rogue One's release subsequently passed most Maldivians by, but there was no stopping Scarif's gravitational pull from drawing Star Wars fans to Laamu (the fandom menace). There, at Reveries guest house, the same guys who helped scout the locations and assist with production, remain only too happy to show the battle sites and to tell their war stories. Planet Scarif survived the Death Star almost intact, though it seems unlikely to reappear in cinemas anytime soon. Two years on in the Maldives, and a new government promises slightly more enthusiasm about guest houses (and slightly less about states of emergency), though its Star Wars policy has yet to be announced. Without a doubt, Rogue One represents a missed opportunity to show the world that the country is more than just sun, sea, and slightly unimaginative politicians. But, this slice of cinematic history remains a great addition to Laamu atoll's rich cultural landscape, and is sure to act as a launchpad for visitors to the wider Maldivian universe for years to come.
---
---
---