Pearl Beach View: GA Nilandhoo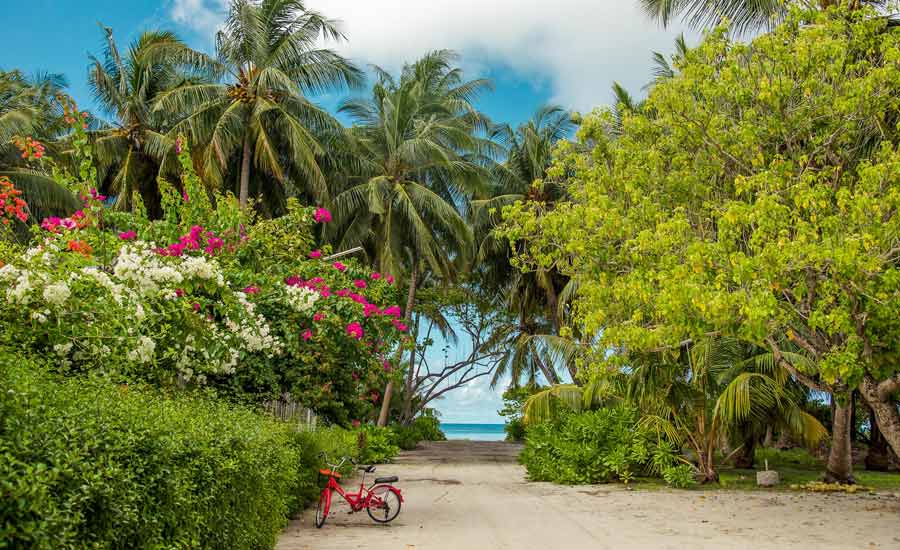 To say a place feels like home is normally a cliche', particularly when you've travelled deep into the Indian Ocean. But to really experience an island in the Maldives, you have to feel like you belong.
Guesthouses are rapidly spreading across the nation, with new buildings moving into every other inhabited island. In Gaafu Alif Nilandhoo, however, Pearl Beach View has taken up residence in a local home, and invites you to do the same.
One of the first guesthouses in this southern atoll, the four-roomed abode offers the chance to enjoy island life as it was intended. Buried in bougainvillea, the guesthouse lounges on the far side of the island, way back from the main harbour…a two minute walk should get you there – if you find more ocean, you've overshot by 50 feet.
Through the garden gate, you'll find traditional stringed joali, hammocks swinging over freshly raked white sand, a couple of guys playing chess over a coffee, and a small cat named Terminator (okay, that part's unusual). Inside the house, through doors propped open with coconuts, a reception/lounge area leads onto the simple but satisfying rooms – all A/C & en suite.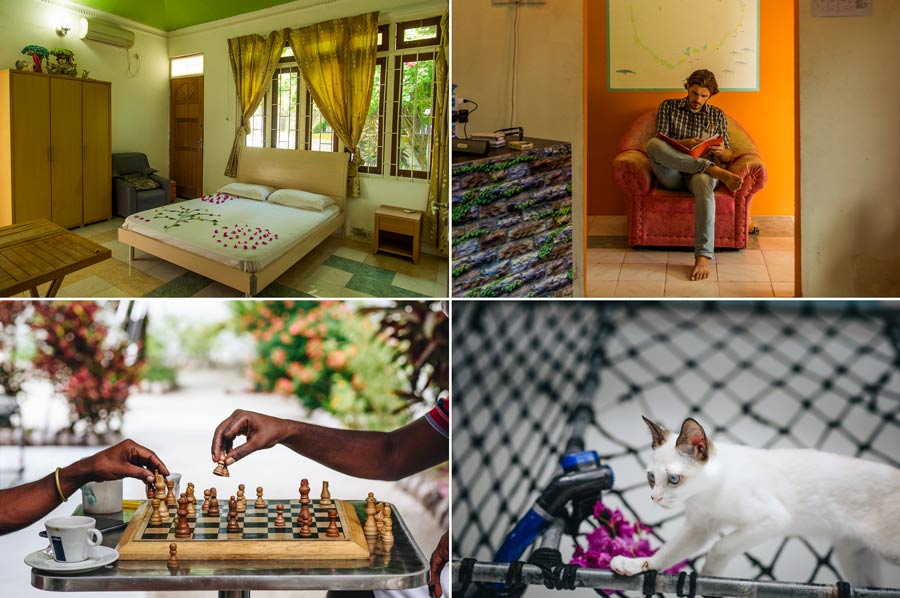 Lying on the table – just above a sticker showing the guesthouse's high rating on booking.com – are details of the tropical excursions on offer. Almost covering the wall opposite is a large painted map of the atoll – one of the world's largest – to help you decide.
Your hosts are happy to recommend an itinerary based on the length of stay. The desert islands of Odagalla, Mathidhoo, and Hinamaagala come highly recommended, and are planned with meticulous island calm. Staff can drop you off with a cooler, a tent, and a mobile phone, and a request to call them when you're done, leaving you in charge of your own island republic for as long as you please.
Additionally, the atoll is regarded as one of the best in the Maldives for diving (and that's really saying something), with local shark and turtle populations particularly prevalent. The guesthouse has fully trained staff members who can show you the underwater wonders of Huvadhu, arranging snorkelling or diving trips. Also, you haven't really 'done' island life if you haven't let them take you fishing (just saying).
For those looking to spend a little more time colonising Nilandhoo, the island can be surveyed easily in the less hot hours between 4 and 6pm. One of the smaller islands in the atoll, one car has been spotted on occasion, but is wholly unnecessary on an island measuring less than half a km across and 1.5km from north to south. The nearest ATM is half a dozen islands up the reef in the atoll capital, so it's advisable to pick up some Maldivian rufiyaa on your way through Male'. Food is available in the guesthouse (and breakfast is free), but a little coffee money is a good investment to watch local life from one of the island's four cafes.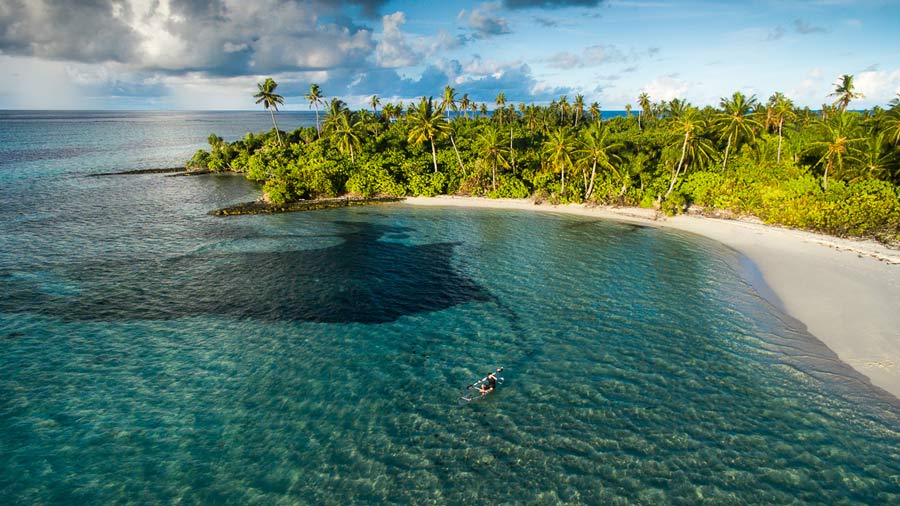 The population of around 600 people resides on the southern half of the island, with fields of tropical fruit spreading north before a sandy path terminates at the island's best beach, reserved for guests. Just across the channel lies the Residence resort, which can also be visited by Pearl Beach View guests who wish to visit the bar (alcohol is unavailable on local inhabited islands).
After a few days on Nilandhoo, you'll forget home was ever anywhere else.
How to get there?: Flights from Male's Velana International Airport leave for Gaafu Alif Koodoo multiple times each day. From there, Nilandhoo lies a 12 minute speedboat ride south. Alternatively, the cheaper local ferry service stops at every island, but currently runs only on Monday and Thursday (depending on weather).
How to book?: Booking can be arranged through major hotel websites, including Air BnB, booking.com and Agoda. Alternatively, the guesthouse can be contacted directly via pearlbeachview.com.
2k Isles' Tip: Spend (another) lazy afternoon taking the guesthouse's complimentary glass-bottomed canoe over the shallow reef area on the outside of the island to the secluded northern beach. Stock up on picnic supplies from one of the local shops before you go, keep an eye out for tiny black-tipped reef sharks, and wait for the sun to drop into the lagoon.
Our guesthouse reviews, along with other essential travel content, can also be found on the site of our travel partner MVHOTELS Travel Guide.
---
---
---