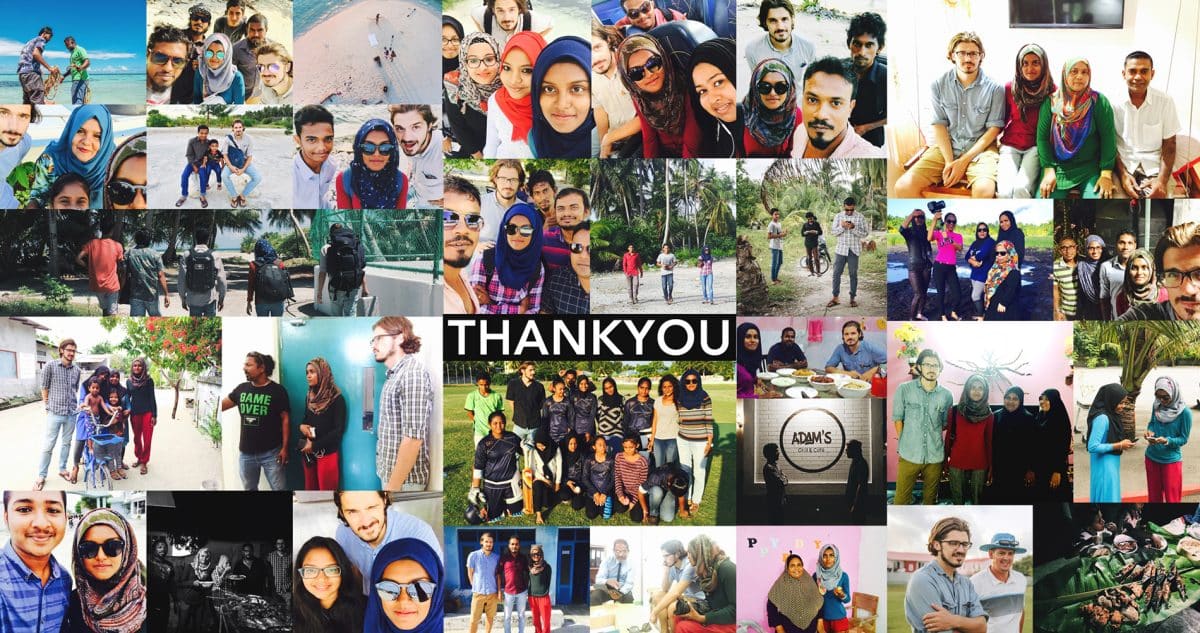 Thank You Fuvahmulah & Gaafu Alif
---
Six weeks after we left Addu, we've been to ten inhabited islands and maybe the same number of uninhabited. The longest time spent was on Fuvahmulah – two weeks – while the shortest was on Gaafu Alif Kondey, were we stayed just eight hours.
But no matter how long the stay, we've received amazing help and hospitality everywhere we've been, and have made countless new friends. Island hospitality really has to be experienced to be believed, and this project would not be possible without people willing to share their stories and their homes with us.
We've tried to collect pictures of everyone who's helped us on our way, and listed them here (check the Facebook post for tags). Sorry if we forgot anyone.
Fuvahmulah
Amko, Raaid, Vaasif, Liam & the cricket team, Nic & Ayya, Dheem and everyone at Funaadu Veevu.
GA Nilandhoo
Shaanis, Nadheem, Nazim, Fayyaz, Farey, Saadhima & Sayri, Shiba, Mandatha, Maazin & Maain (& family), Naami, Ibbe and everyone at Fehifarudhaage and the Pearl Beach View Guesthouse.
GA Gemanafushi
Shaanis (again), Riyaz and everyone at Kaamineege.
GA Kondey
Shaanis (again!!) and Thaariga.
GA Kanduhuludhoo
Aiman, Zammath, Xihoo, Milna, and everyone at Wahydha Manzil.
GA Dhaandhoo
Aasif, Mohamed Ali and everyone at Asareege.
GA Maamendhoo
Ibbe (again), Shiyah, and everyone at Dilbahaaruge and Theesree Manzil.
GA Villingili
Khaleel (& family), Nazim (again), Shaz, Anu, and everyone at Centeruge.
GA Kolamaafushi
Aman (& family), Naeema, Hassan, Shaffaaf and everyone at Bonthi and Maathila.
GA Dhevvadhoo
Didi brothers, Shizu, Maumoon, Jihaadh, Mode and everyone at Irumatheege.
Thanks for making this happen!!
---
---