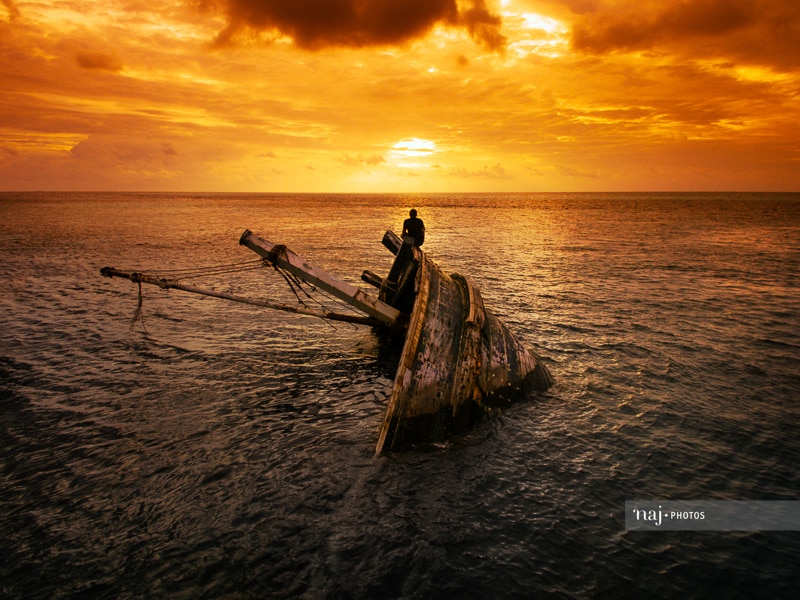 The Laccadive Ridge has always acted as a trans-continental filter; a 2,350km oceanic dragnet for all those destined to become Dhivehin (or, to a lesser extent Chagossian or Lakshadweep).
All that passed from east to west, and back again, for untold centuries would run this Indian Ocean gauntlet, with the notorious reefs absorbing traditions, travellers and trade seemingly at random – like seeds washing up onto a sandbank.
Flotsam & jetsam; culture & custom; friend & foe.
It's not clear exactly how initial waves of migration to the islands occurred (and when), but shipwreck has undoubtedly played a significant role on the tiny island populations.
The boat pictured here lies near the island of Vaavu Keyodhoo, and is thought to be an Indonesian vessel that drifted empty into the atoll a few years ago. The whereabouts of its crew is a mystery (to us, at least), while the boat itself is fast becoming a local attraction, as well as helping to sell insurance.
Similar vessels running aground nowadays are unlikely to have as much of a cultural impact as their forbears, although hefty fines for environmental damage will at least contribute to state coffers. But you don't have to search too far to find examples of others who left a lasting mark on the atolls.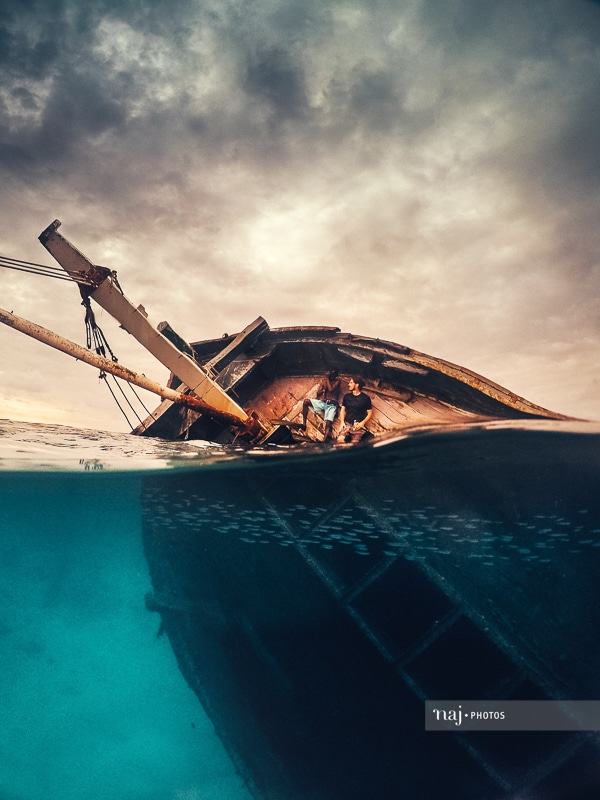 Francois Pyrard's tale of wreck and rescue in Goidhoo atoll continues to delight 400 years on, while HCP Bell's interest in the Maldives was sparked after he arrived to investigate a British ship stuck on Gafaru reef in 1879. More recently, Tony Hinde's unexpected (and grinding) halt on Helengeli reef in 1973 inadvertently led to the development of modern surfing in the atolls.
The legacy of others stranded on the coral is less visible above the waters of time, dissolving into Dhivehi culture like a drop in the warm ocean – though all have added to the Maldives' fascinating genetic mix. Listen closely, however, and you can still hear tales of French bloodlines in South Ari; of a young boy from Europe (now known only as 'Naleyaa', or 'beautiful') wrecked on Kondey 300 years back; of Chinese in Mulaku, and of marooned Arabs naming islands in Addu.
Whether great or small, wrecks like this one serve as a timely reminder of the Maldives' global position, straddling a synthesis of international cultures for millennia. A place of cultural accumulation and re-creation rather than isolation.
Long may it continue.
---
---
---